WCI Inc.
Your Trusted LED Module Manufacturer & Partner.
Walk around our showroom and browse through all the cool LED modules we have built and selected to showcase for you. Make sure to click on the TAGS to access the datasheets for each product line. If you cannot find what you need, please send our sales team an email using the below button. We can build you any type of LED module for any application with specified spec in 2 weeks!
Quality
is our top priority. Without quality products and quality servcies we wouldn't be in business for over 30 years and growing!
ENGINEERING
Need expert engineering services to assist you in designing your LED sources! Let our engineering team help you with this process.
We can create PCB Gerber files for any LED module application and provide samples.
LEAD-TIME
Standard producrts: 1 – 2 DAYS
Custom build: 2 WEEKS
Ask us about our special inventory programs to minimize lead-times while we are in production.
TESTING
100% Functional testing
ICT testing
Performance testing reports
X-ray inspection
Custom testing requirements
LEDs
We stock millions of LED chips from all brands including NICHIA, SAMSUNG, CREE, LUMILEDS, SEOUL-SEMI, OSRAM and …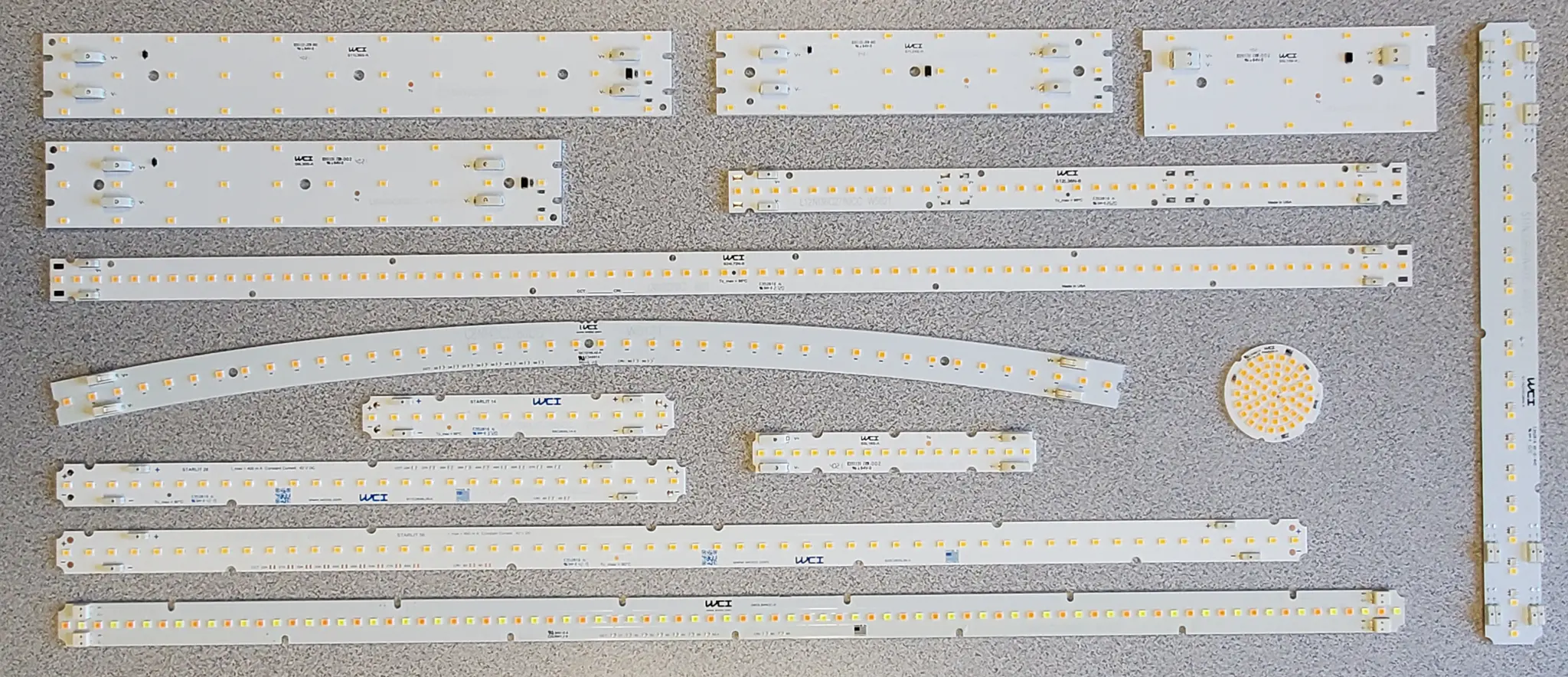 Here are the details for each item based on the item number above. For datasheets, please click on the item part number.
1 – S11L36S-A Rectangle, 11 inch, 36 LED
2 – S9L30S-A Rectangle, 9 inch, 30 LED
3 – S7L24S-A Rectangle, 7 inch, 24 LED
4 – S5L15S-A Rectangle, 5.2 inch, 15 LED
5 – S12L36N-B Linear 1FT, 36 LED
6 – S24L72N-B Linear 2FT, 72 LED
7 – S5L16S-A Linear 5 inch, 16 LEDD
8 – S5C2835L14-A Starlit 14, Linear 5.5″, 14 LED
9 – S11C2835L28-A Starlit 28, Linear 11″, 28 LED
10- S22C2835L56-A Starlit 56, Linear 22″, 56 LED
11- S602L84NDC-A Tunable White, 2FT, 84 LED
12- S11N20RGBW-A RGBW, Linear 11 inch, 20 LED
13- QC1219L42-A Curve 8FT diameter, 42 LED
14- R44N56-A Round 1.75″, 56 LED
We are proud to be manufacturing in the USA for the companies that value this!